---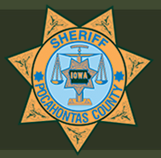 ---
Company Name: Pocahontas County Sheriff's Office
Location: Pocahontas, IA
Contact Number: 712-335-3308
Position: Full-time Sheriff's Deputy
Number of Positions: 1
Candidates must meet State of Iowa minimum hiring standards for Peace Officers.
To Apply: applications must be obtained from the Pocahontas County Sheriff's Office at 99 Court Square, Suite 9, Pocahontas, IA 50574. Applications must be received by close of business on July 1st, 2019.
For more information, contact the Sheriff's Office at 712-335-3308 or email civil@pcso-ia.com.